BY: AP
DERNA, Libya (AP) — Search teams combed streets, wrecked buildings and even the sea for bodies in a devastated eastern Libyan city on Wednesday, where authorities said massive flooding had killed at least 5,100 people, with the toll expected to rise further.
Authorities were still struggling to get aid to the Mediterranean coastal city of Derna after Sunday night's deluge washed away most access roads. Aid workers who managed to reach the city described devastation in its center, with thousands still missing and tens of thousands left homeless.
"Bodies are everywhere, inside houses, in the streets, at sea. Wherever you go, you find dead men, women, and children," Emad al-Falah, an aid worker from Benghazi, said over the phone from Derna. "Entire families were lost."
ADVERTISEMENT
Mediterranean storm Daniel caused deadly flooding in many towns of eastern Libya on Sunday, but the worst-hit was Derna. Two dams outside in the mountains above the city collapsed, sending floodwaters washing down the Wadi Derna river and through the city center, sweeping away entire city blocks. Waves rose as high as 7 meters (23 feet), Yann Fridez, head of the delegation of the International Committee of the Red Cross in Libya, told broadcaster France24.
Mohammed Derna, a teacher in the city, said he, his family and neighbors rushed to the roof of their apartment building, stunned at the volume of water rushing by. It reached the second story of many buildings, he said. They watched people below, including women and children being washed away.
"They were screaming, help, help," he said over the phone from a field hospital in Derna. "It was like a Hollywood horror movie."
Derna lies on a narrow coastal plain on the Mediterranean Sea, under steep mountains running along the coast. Only two roads from the south remain usable, and they involve a long, winding route through the mountains.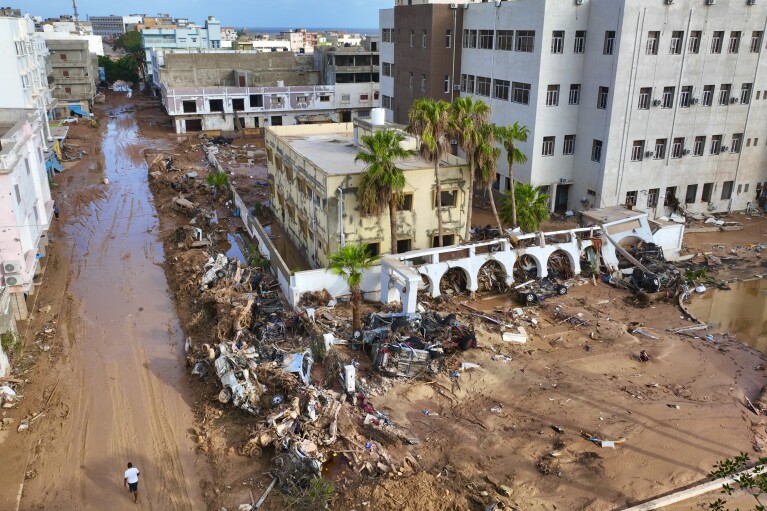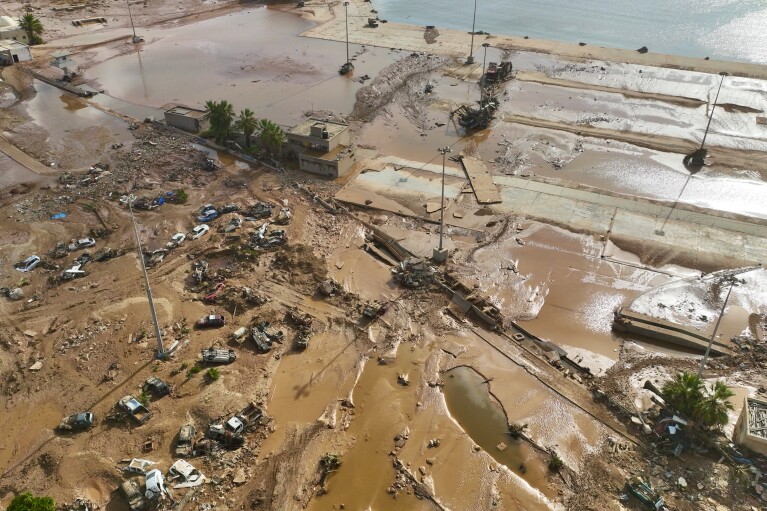 Aid teams with some supplies managed to get in that way, while authorities in eastern Libya worked Wednesday to repair the faster coastal access routes.
Otherwise, local emergency workers were relying on whatever equipment they already had on hand. Search teams combed shattered apartment buildings and retrieved the dead floating offshore in the Mediterranean Sea, al-Falah said. Collapsed bridges the river split the city center, further hampering movement.
Ossama Ali, a spokesman for the Ambulance and Emergency Center in eastern Libya, said at least 5,100 deaths were recorded in Derna, along with around 100 others elsewhere in eastern Libya. More than 7,000 people were injured in the city, most receiving treatment in field hospitals that authorities and aid agencies set up, he told The Associated Press by phone Wednesday.
The number of deaths is likely to increase since teams are still collecting bodies from the streets, buildings and the sea, he said. At least 9,000 remain missing, but that number could drop as communications are restored, Ali said.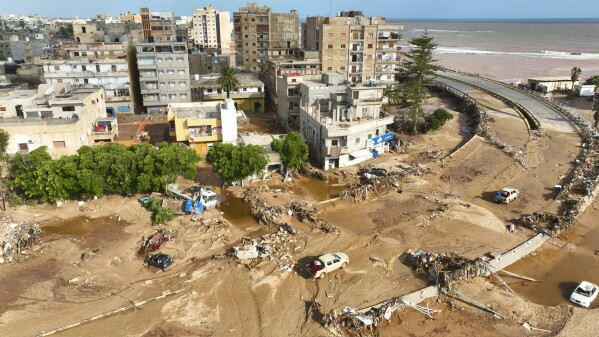 At least 30,000 people in Derna were displaced by the flooding, the U.N.'s International Organization for Migration said, adding that the city remained almost inaccessible for humanitarian aid workers.
The startling devastation pointed to the storm's intensity, but also Libya's vulnerability. The country is divided by rival governments, one in the east, the other in the west, and the result has been neglect of infrastructure in many areas.
"This is a disaster in every sense of the word," a wailing survivor who lost 11 members of his family told a local television station as a group of rescuers tried to calm him. The television station did not identify the survivor.
Ahmed Abdalla, a survivor who joined the search and rescue effort, said they were putting bodies in the yard of a local hospital before taking them for burial in mass graves at Derna's sole intact cemetery.
ADVERTISEMENT
"The situation is indescribable. Entire families dead in this disaster. Some were washed away to the sea," Abdalla said by phone from Derna.
Bulldozers worked over the past two days to fix and clear roads to allow the delivery of humanitarian aid and heavy equipment. Derna is 250 kilometers (150 miles) east of Benghazi, where international aid started to arrive on Tuesday.
Libya's neighbors, Egypt, Algeria and Tunisia, as well as Turkey and the United Arab Emirates, sent rescue teams and aid. President Joe Biden also said the United States is sending emergency funds to relief organizations and coordinating with the Libyan authorities and the United Nations to provide additional support.
Mohammed Abu-Lamousha, a spokesman for the eastern Libyan interior ministry, on Tuesday put the death tally in Derna at more than 5,300, according to the state-run news agency. Dozens of others were reported dead in other towns in eastern Libya, he said.
Authorities have transferred hundreds of bodies to morgues in nearby towns. More than 300, including 84 Egyptians, were brought to the morgue in the city of Tobruk, 169 kilometers (105 miles) east of Derna, the local Medical Center reported.
ADVERTISEMENT
The victims' lists reflected how Libya, despite its turmoil, was always a magnet for workers from around the region because of its oil industry.
More than 70 of Derna's dead all hailed from a single southern Egyptian village, el-Sharif. On Wednesday morning, hundreds attended a mass funeral in the village for 64 repatriated bodies. Rabei Hefny said his extended family lost 16 men in the flooding, 12 of whom were buried Wednesday. Another funeral for four others was held in a town in the northern Nile Delta.
Among those killed in Libya was also the family of Saleh Sariyeh, a Palestinian originally from the Ein el-Hilweh refugee camp in Lebanon who had lived in Derna for decades. The 62-year-old, his wife and two daughters were all killed when their home in Derna was washed away, his nephew Mohammed Sariyeh told the AP.
The four were buried in Derna. Because of ongoing gunbattles in Ein el-Hilweh, the family there could not hold a gathering to receive condolences from friends and neighbors, Mohammed said.
Derna, about 900 kilometers (560 miles) east of the capital, Tripoli, is controlled by the forces of powerful military commander Khalifa Hifter, who is allied with the eastern Libyan government. The rival government in western Libya, based in Tripoli, is allied with other armed groups.
Derna was once a hub for extremist groups in the years of chaos that followed the NATO-backed uprising that toppled and killed longtime dictator Moammar Gadhafi in 2011.
___
Magdy reported from Cairo. Associated Press writer Bassem Mroue in Beirut contributed to this report.