Horndiplomat-High quality global journalism requires investment. Please share this article with others using the link below, do not cut & paste the article. See our Ts&Cs and Copyright Policy for more detail. Email ftsales.support@ft.com to buy additional rights.
Shivani Siroya on how smartphone data yields a financial identity for those with no access to funds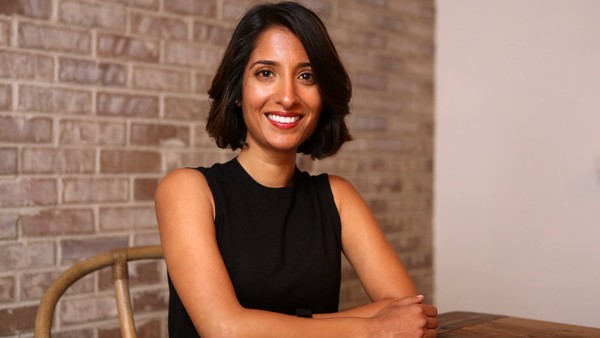 ©Ann Johansson
Many entrepreneurs can point to a person who gave them the idea for starting their business. Shivani Siroya has 4,500 such individuals.
These are the owners of the small and microbusinesses that she interviewed a few years ago in sub-Saharan Africa and India about their spending habits and access to capital.
"I started to realise there was so much there that we were missing," she says about her time working for a small microfinance company and the UN. "If we could identify the businesses that actually needed a credit product, or specifically business loans, then our capital would be used in a much more efficient way."
Finding there was no way to help these often poorly educated but careful business people obtain credit, Ms Siroya has created her own start-up, which is at the vanguard of a fintech revolution. It is transforming millions of Kenyans' lives by using mobile phone technology to assess creditworthiness and issue uncollateralised loans.
InVenture, which is based in Santa Monica, California, but operates in Kenya, uses a mobile phone app to scrape data off a person's mobile phone to give them a "financial identity", as Ms Siroya puts it. The data range from mobile money spending patterns and calling and travel routines, to the way contacts are organised: for instance repayment of a loan is more likely by someone whose contacts are listed with both first and second names.
"We picked the smartphone data [as the basis for their financial identity] because we felt that was the closest proxy to someone's daily life," says the 32-year-old.
The company then issues uncollateralised loans to those who pass the algorithm's benchmark. Processing an ap­plication takes five minutes. InVenture also forwards positive credit reports to Kenya's Credit Reference Bureau to help people, many of whom have never been into a bank, secure longer-term loans.
Ms Siroya says it took years to develop InVenture. After deciding in 2008 that "nobody at the UN was really doing anything to solve the credit problem", Ms Siroya quit the development world to find a private sector solution.
However, she needed a job. Having worked at UBS before joining the UN, she was drawn to banking and joined Citigroup's M&A department in California. While working on an acquisition she realised that the big problem in that deal, and with her pet project, was a lack of data.
Ms Siroya formed a volunteer army of 35 like-minded people to find the data.
©AFP
While holding down her banking job, she co-ordinated the gathering of data and testing in Ghana, India and Mexico. "One day my boss came to me and said 'I think you have a better job' and that's what made me take that leap into starting my own company."
Initially the five staff in the company only gathered and then forwarded data to banks. "But then we decided to take our destiny into our own hands. We didn't want to wait for a bank to tell us whether we were right or wrong."
It was at that stage that Ms Siroya decided to focus on Kenya, because of its relatively high smartphone penetration, world-leading M-pesa mobile money platform and the fact that it was English speaking.
The app was launched in early 2014, and now some 125,000 Kenyans previously considered uncreditworthy have Tala — the InVenture app's new name — financial identities. InVenture, now with 50-plus employees, has issued more than $10m in loans to 100,000 people. The average loan size is about KES10,000 ($100) with the median about half that. Ms Siroya says the default rate is about 5 per cent.
InVenture's greatest success has arguably been the way it has disrupted the Kenyan lending system and prompted others to follow. Not only have similar start-ups, such as Branch International, based in San Francisco and Nairobi, emerged but two of Kenya's biggest banks — KCB and Equity Bank — have launched similar products. In total, more than $200m in such phone data-assessed uncollateralised loans has been issued since InVenture launched its first app.
Ms Siroya is very hands-on. She rises daily at about 5.30am, fits in some exercise, and reaches the of­fice in time to make contact with Nairobi from the West Coast before its office day ends. "And the cool part is that Kenya and the other markets we may be looking at wake up at 9pm or 10pm here in LA," she says. "So you actually get to have a full day, take a little break and then start working again in the evening."
An only child, Ms Siroya says she learnt her self-discipline from her parents who, when she was growing up in the US, woke her at 5.30am to join them for breakfast.
However, while forging a new path for a new company, Ms Siroya is at times happy to adopt a management style that she describes as "collaborative".
On a recent visit to Nairobi for the Tala rebranding of InVenture's app, Ms Siroya left the speechmaking to Amanda Donahue, who heads the east Africa operation. It helped show the audience that Tala was as much a Kenyan brand, with leadership based in the country, as a US one.
"That is how you become a global player, [by] having these localised brands," she says. "It's not a good thing if I go to Kenya and then I give a speech and leave and go back to LA. I can promote us at a global platform."
Founders share tales from the entrepreneurial frontline with the FT's Jonathan Moules as the popular podcast returns for a second series.
InVenture is still small. It took off after receiving $1.2m in seed funding in March 2013 and its last funding round was for $10m, while it has also recently raised $3m in debt financing.
Helping its growth is the fact that it gets more bang for each buck than in the trad­itional loan market. The average repayment period is 30 days, but many borrowers repay within half that, which means the company's capital can be recycled much more quickly than banks' loans.
Ms Siroya believes the business has huge potential. Among the several billions of people without access to credit, some 1bn of them have a smartphone. With phones costing as little as $20 in Kenya, and elsewhere, penetration is set to soar.
Diversification into areas such as insurance is now on the agenda as well as expansion beyond Kenya. "Instant credit is what we started with but we've always known that we are going to go beyond that," she says.
"That's why I think we'll be a big company . . . we're not just thinking about one product, we're thinking about the entire daily financial life of a customer."
SOURCE:FTIMES